As a global leader in bearing repair, BMC provides services that can extend your bearing's life and save you money. We find solutions to get the bearing you need, whether through repair or modification services to reduce your long lead times.
Z-mills are cold rolling mills designed to process both ferrous and non-ferrous metals to close tolerances.
Z-mill bearings, also known as backing bearings, were designed to improve steel rolling products' precision. The bearings have been developed for cold rolling mills but can be used for other applications.
In this article, we touch on the Z-mill evolution, help you determine if a bearing is a contender for repair, and the levels of bearing repair to consider to ensure the best quality.
History and Composition
Another advantage of the Z-mill is that the small work rolls provide a sharper bite, more significant pressure, and less roll deflection than a four high mill and can roll stainless top gage without softening the roll.
These mills run at speeds ranging from 500MPM to 1000MPM. The material of rolls must be of outstanding quality, clean, and free from inclusions and defects at such high rates.
A Z-mill is comprised of:
Work rolls
1st intermediate rolls
2nd intermediate rolls - exerts tension on the coil
Z-High mill rolls
Back-up bearings
The combination of high pressure and tension makes the mill capable of rolling material thin and flat.
"Backing bearings in the middle of the roll are subject to heavier loads than those at the ends of the roll. As the middle bearings wear more than the others, they should be replaced more often."
A modern Z-mill configuration takes heavier reductions per pass and achieves thinner gauges. More rigid materials can be rolled without intermediate anneals and can produce a better surface through this mill. [source]
Five Levels of Z- Mill Bearing Repair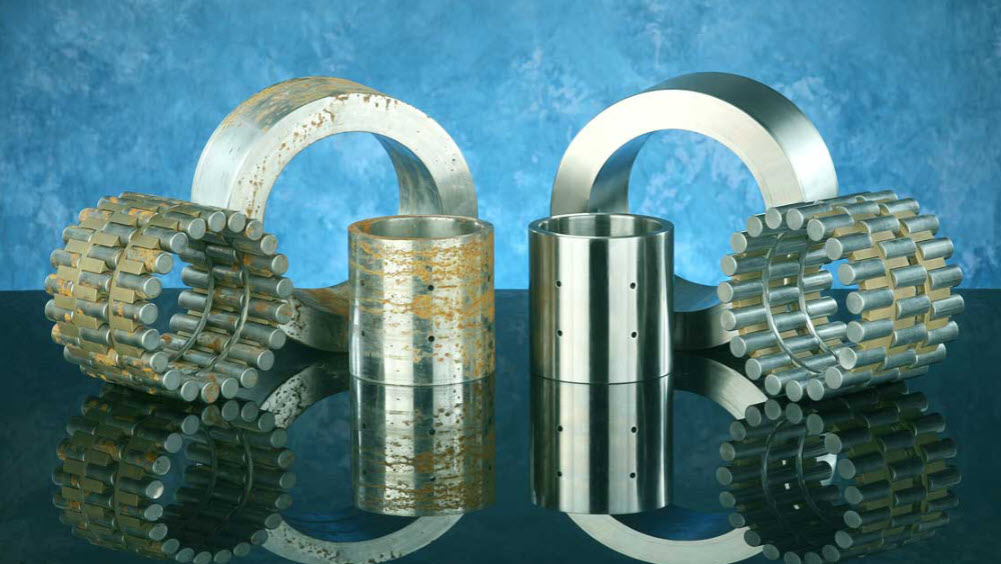 Bearings typically show wear and surface distress caused by contamination, abrasion, corrosion, or breakdown of lubricants.
Even bearings that have been adequately maintained undergo repeated stress cycles and maybe on the verge of fatigue.
There are five levels of bearing repair to consider to ensure the best quality. The operations are listed below in order of increasing repair time, difficulty, and cost.
Level 1
Disassemble

Clean

Complete overall visual and dimensional inspection

Hardness check

A written inspection report, including condition, recommended repair level, repair cost, and delivery schedule

Reassemble

Preserve

Wrap in VCI paper with protective packaging

Box and ship
Level 2
Includes level 1

Plus regrinding the O.D. and polishing all parts
Level 3
Includes level 2

Plus grinding races, new rollers, and spacers
Level 4
Includes level 3

Plus, new inner race
Level 5
Includes level 1

Plus, a new outer race
Level 5 remanufacturing saves money and time and is guaranteed like a new bearing.
Z-Mill Repair Process (Step-by-Step)
Step 1. When the bearings are received, they are cleaned and etched.
Step 2. The bearings are then inspected. At the initial inspection stage, a technician disassembles and checks for cracks, spalling, heavy pitting, rust, and hardness. All components are kept in individual boxes to prevent mixing.
Step 3. An inspection report is generated showing the condition of each component.
Step 4. A quote will be submitted to the customer with the inspection report recommending the level of repair needed.
Step 5. Once a purchase order is received, that will start the repair process.
Step 6. The inner and outer races are hand polished.
Step 7. The rollers are vibratory polished, and all components are then cleaned and assembled for initial gauging.
Step 8. Once the initial gauging is completed, the bearings receive target sizes.
Step 9. The outer races will then go to the grinding process.
Our Z-Mill regrinding process
The process we use is an expandable arbor between centers. The outer race i.d. locates on the arbor, which keeps the outer o.d. and i.d. concentric during grinding. Keeping the outer race concentric will result in a better final runout of the Z-mill bearing.
Some competitors use a centerless grinder to regrind the outer race. Centerless grinders use a blade for the part to sit on while being ground. One of the problems with using a centerless grinder is that if the bearing has skid marks on the o.d. from the mill skidding during operation, it can cause a concentricity problem after grinding. This is a faster process but not as accurate if you have outer races that are out of round or skid marks on the o.d. of the outer.
Grinding off an arbor is a slower process than centerless grinding but provides better running accuracy of the reground Z-mill bearing. The less runout the bearings have will help better the mill operator's size control on their finished strip.
Step 10. Grind the outer races with a custom-made expandable arbor.
Step 11. The arbor sleeve locates on the race of the outer. This assures that the concentricity of the O.D. and I.D. of the outer race are together.
Step 12. The bearing goes back to the gauge room to normalize to 68 degrees Fahrenheit, then is gauged for section size and runout.
Step 13. The final section size and high point of runout are etched at this time.
Step 14. The bearings are then preserved and wrapped in VCI paper, and boxed.
Step 15. A detailed final inspection sheet for all of the bearings will be returned with the shipment.
If you question how much runout you may be getting, we offer a free runout inspection of your bearings. A higher-quality rework on your Z-mill Bearings will decrease your number of change-outs.
Conclusion
Remanufacturing or repair is a major contributing factor to reduce the cost of your industrial equipment.