Bearings are crucial parts that direct and enhance spindle movement.
As present-day machinery continues to move forward, the equipment must be more precise, durable, and speedier than ever before. Spindle bearings are suitable for very high speeds and help spindle movement reach its optimum speed and accuracy.
Because of the demanding application, stresses can occur in the bearing, which reduces its operating life.
BMC realizes the critical component used to shape materials through high-speed rotation use and can repair or rebuild your existing spindle as needed.
We understand that high precision spindle and machine tool applications call for specific bearings that are not always readily available in the market. We can take a more standard style of the bearing and modify it to your sample or prints.
If this sounds like a problem you've encountered or have,
Keep reading...
We cover the diverse applications used by spindle bearings to ensure optimum performance and types of bearings for machine tool applications.
Machine Tool Spindles and Spindle Bearings Working Together
The most common application for spindle bearings is in the machine tool spindles from which the term spindle bearing is derived.
Spindle bearings are high-precision bearings that are designed for use in machine tool spindles and other precision applications. The machine tool spindles are the rotating components that hold and drive cutting tools. For example, spindles are used for machining metal or other rigid materials.
"In machine tools, a spindle is a rotating axis of the machine, which often has a shaft at its heart. The shaft itself is called a spindle, but also, in shop-floor practice, the word often is used metonymically to refer to the entire rotary unit, including not only the shaft itself but its bearings and anything attached to it (chuck, etc.)." [source]
Due to their very narrow tolerances, the spindle bearings are particularly suitable for applications with the highest guidance accuracy requirement, such as bearing arrangements for main spindles in machine tools.
"Tolerance classes for ball bearings were defined by a committee within the ABMA known as the "Annular Bearings Engineers Committee" (ABEC). These tolerances are commonly referred to as ABEC rating or grade.

The higher the classification number, the tighter the tolerances become, resulting in higher precision of the assembled bearing." [source]
There are two types of high-speed spindles with different designs.
1. Belt-driven spindle - powered by an external motor connected via a belt-pulley system.
2. Motor spindle - the main component of this spindle is the motor, stored internally.
Let's take a look at their different designs...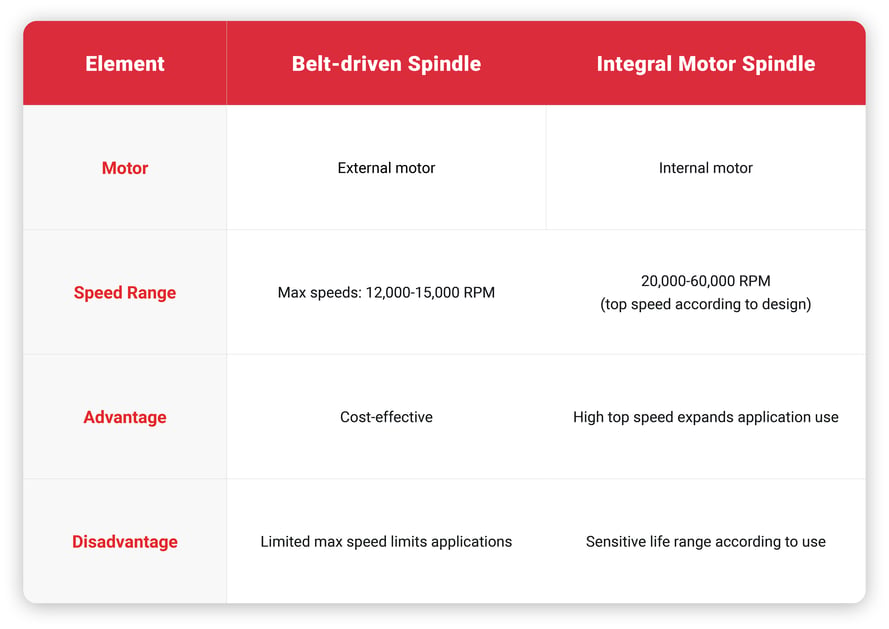 Here's a quick look at your basic spindle assembly:
Source, Spindle Assembly, via Youtube
Precision spindles provide an approach for the best rotary motion to increase productivity and efficient manufacturing.
Specific Applications
The motorized spindle is mainly used in high-end precision machining.
For example,
"3C wearing parts machining, workpiece finishing, aerospace propeller cutting, engine cylinder machining, car chassis machining, transmission joint grinding, etc. The commonality of these applications is the need for rapid and flexible capabilities during processing." [source]
In the next section, we touch on four bearing types of machine tool applications.
Bearing Types for Machine Tool Applications
There are different types of bearings to use in machine tool applications.
Angular-Contact Ball Bearings - are designed to support loads whose application line is at a certain angle to the perpendicular axis (contact angle). The bearings support high operating speeds.
Applications also include woodworking spindles, vacuum pumps, and the semiconductor industry.
Radial or Deep-Groove Bearings - accept axial loads in both directions.
Applications also include vacuum technology, electric motors, and the medical field.
Roller Bearings - this bearing style is composed of one or two rows of balls or rollers (made from steel) that reside between inner and outer rings. Often raceways or grooves are cut into the rings to guide the rolling elements properly.
Thrust Ball Bearings - is a rotary bearing that rotates between parts reducing friction, and is designed to support an axial load (mostly in low-speed applications). It is the axial bearing that permits rotation between parts.
Since bearings are so crucial, many different bearing types have been developed for various loads and jobs, so it's key to make sure you know how to differentiate between them all, so they fit your customer's needs.
More on Bearing Types: The Technolgy to Make Life Easier (Parts and Usage)
Resources:
Radial Ball Bearings Versus Angular Contact Ball Bearings
What is an Electric Spindle (builtin spindle, motorized spindle) and its applications?
Common Modification Types
The demands of your application and requirements change. At BMC, we help evaluate your needs and determine if your existing bearings can be modified or if a new bearing design is needed.
The following are types of modifications that turn standard bearings that are more easily obtainable into specialty/spindle-specific bearings that may take a long time to acquire.
-DLR ( Direct lube )
-EDM holes for lubrication
-Inner race reliefs
-ID/OD reductions
-Lubrication grooves and oil holes
-O-ring grooves
-Anti-rotation slots or holes
-Soft/Hardenden precision Spacers
-Custom Preloads and Arrangements
Most spindle rebuild facilities are faced with their customers in a shutdown situation. Any delay in getting the spindle rebuilt could be very costly to the end-user. Additionally, if a super precision spindle keeps failing prematurely, one or more of these features may solve a root problem causing the failure.
In Summary
As we continue to advance with CNC (computerized numerical control) technology, machine tools are expected to be more reliable and accurate.
High-quality bearings must be used to mirror this demand and remain competitive.
The selected bearing will affect the speed, precision, and rotation.